Current Affairs Daily Quiz: 23 February 2022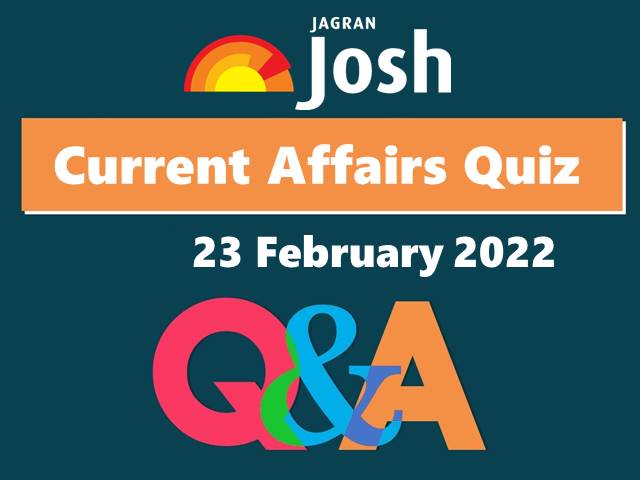 Current Affairs Questions for UPSC: The current affairs quiz section of Jagran Josh aims to help every competitive exam aspirant to revise the current affairs of the day easily. Current Affairs Questions and Answers covering topics like President's Colors Samman, Parachute Regiment, Cobra Warrior Air Exercise and DPIFF 2022.
1. The units of which regiment were awarded the President's Color on 23rd February?
a) Rajputana Rifles
b) Parachute Regiment
c) Sikh Regiment
d) Jat Regiment
2. In which year was the Parachute Regiment first formed?
a) 1941
b) 1945
c) 1943
d) 1947
3. Which country will host the aerial exercise named 'Cobra Warrior'?
a) United Arab Emirates
b) UK
c) Singapore
d) Malaysia
4. Which IAF jet will participate in the Cobra Yodha Vayu exercise?
a) LCA Tejas
b) Sukhoi-30MKI
c) Raphael
d) MiG-21
5. What was the first name of KPAC Lalita?
a) Sheela
b) Sharada Amma
c) Mamta
d) Maheshwari Amma
6. Who was honored with the Outstanding Contribution to Film Award at DPIFF 2022?
a) Amitabh Bachchan
b) Asha Parekh
c) Shankar Mahadevan
d) Dharmendra
7. Which country has successfully test-fired its new naval air defense system named 'C-Dome'?
a) Israel
b) Iran
c) Turkey
d) North Korea
Answer
1. (b) Parachute Regiment
The Chief of the Army Staff, General MM Naravane presented the coveted 'President's Colours' to four battalions of the Parachute Regiment on February 23, 2022. The units include 11 Parachutes (Special Forces), 21 Parachutes (Special Forces), 23 Parachutes and. 29 Parachute.
2. (b) 1945
The Parachute Regiment is an airborne and special forces regiment of the Indian Army. The regiment was first formed in 1945 as part of the British Indian Army. It was disbanded after World War II and re-erected as a part of the Indian Army in 1952.
3. (b) UK
The multi-nation air exercise titled 'Cobra Warrior' will be conducted from March 6-27, 2022 at the Royal Air Force Base in Waddington, United Kingdom. The Cobra Warrior exercise is one of the largest annual Royal Air Force exercises and aims to train both pilots and other air experts in planning and executing complex aerial missions.
4. (a) LCA Tejas
India will send five indigenous LCA Tejas fighter aircraft to participate in the Cobra Warrior exercise in the United Kingdom. A C-17 aircraft will also accompany to provide transport support. IAF jets will participate in the exercise along with fighter jets from the UK and other major air forces.
5. (d) Maheshwari Amma
KPAC Lalita passed away on February 22, 2022 in Kochi, after battling a prolonged liver-related ailment. The veteran actor was born as Maheshwari Amma in Kayamkulam, Alappuzha. He acted in over 550 films in Malayalam and Tamil in a career spanning nearly five decades.
6. (b) Asha Parekh
Asha Parekh was honored with the Outstanding Contribution to Film Award at the Dadasaheb Phalke International Film Festival Awards 2022. The Film of the Year award for 'Pushpa: The Rise' and the award for Best International Feature Film went to another round, directed a comedy-drama film. by Thomas Winterberg.
7. (a) Israel
Israel has successfully test-fired a new naval air defense system named 'C-Dome'. It is a naval version of Israel's Iron Dome, an air defense system that can intercept and destroy short-range rockets and missiles.