Current Affairs in Short: 22 February 2022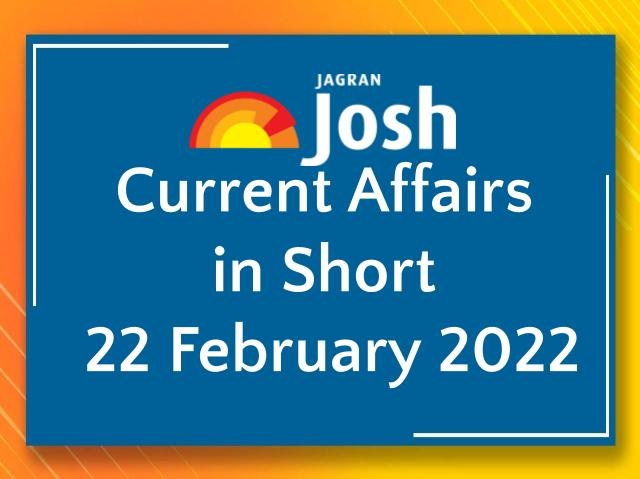 Air India's special flight leaves to bring back Indians from Ukraine
• Tata Group-owned Air India's special flight will take back Indian nationals, including registered students, from Ukraine for their safe return.
• An Air India official said that the first special flight of Air India (AI-1946) out of three to be operated from Ukraine to India will fly with Indian nationals tonight.
• Earlier, Air India had announced that it would operate a total of three flights from Ukraine to India for Indian nationals amid the war situation in Ukraine.
• India stressed the need for mutually amicable solutions by all parties at the special meeting of the United Nations Security Council.
Batsman Richa Ghosh registered the fastest fifty in ODIs
• Indian batsman Richa Ghosh has registered the fastest fifty by an Indian batsman in women's ODI cricket.
• Richa achieved this feat in the ongoing fourth ODI between India and New Zealand. He completed his half-century in just 26 balls with the help of 4 and 4 sixes.
• The ongoing fourth ODI between India and New Zealand was reduced to 20 overs per side after rain.
• Richa Ghosh departed from the match after playing an innings of 52 runs.
Polling in 59 seats of UP in the fourth phase tomorrow
• Polling for the fourth phase of UP elections will be held on February 23, 2022 in 59 constituencies.
• The fate of a total of 624 candidates contesting in the fourth phase of UP elections will be stamped tomorrow.
• UP's 59 assembly seats are spread over Lakhimpur, Pilibhit, Kheri, Sitapur, Unnao, Hardoi, Rae Bareli, Lucknow, Fatehpur and Banda districts.
• Lakhimpur Kheri came into limelight when eight people, including four farmers, were killed when they were hit by a vehicle during a protest.
New Zealand remembers victims of 2011 earthquake
• New Zealand's second largest city, Christchurch, marked the 11th anniversary of a violent and devastating earthquake on 22 February that claimed the lives of 185 people spread across more than 20 nationalities.
• The Mayor of Christchurch laid a wreath on behalf of Christchurch on the grounds of the Canterbury Earthquake National Memorial in the city centre.
• 24 Chinese students were among the victims of the 2011 earthquake. After a disaster, the Chinese government sent a 10-man search and rescue team.
Taliban faces resistance in Bamiyan, Afghanistan
• Taliban officials alleged they were facing new resistance from some groups in central Afghanistan's Bamiyan province.
• Many Bamiyan residents have been critical of the persecution of people by Taliban forces.
• The Taliban official has asked the people of Bamiyan to work with them so that the security of the region is not compromised.
• Reportedly, there has also been increased resistance against the Taliban regime in Kapisa, Panjshir and Parwan provinces. Officials have said that they will counter the activities of the resistance.