Goa Election Result 2022: BJP takes lead with 5 winning candidates from Curchorem, Siroda, Valpoi, Poriem, Panaji
Goa Election Result 2022: The winners have been announced from 10 seats of Goa Assembly Election 2022, where BJP leads with 5 winning candidates, while 2 are independents and 3 are from Indian National Congress. BJP has made a lead in 40 assembly seats with 15 seats.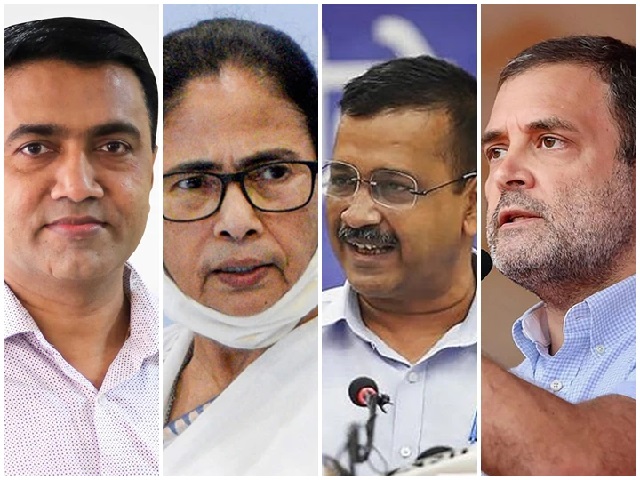 Goa election result 2022
Goa Assembly Election Result 2022: As the counting of votes for the Goa Assembly Election 2022 continues on March 10, 2022, a total of 332 candidates are contesting out of 40 assembly seats in the Goa Legislative Assembly. The winners of 10 seats have been announced, with BJP leading in 15 seats, while Congress is second with 8 seats.
Assembly elections in Goa were held in a single phase on February 14, 2022, and the results will be declared along with assembly results for four other states- Manipur, Uttar Pradesh, Uttarakhand, Punjab.
The Bharatiya Janata Party is the ruling party in Goa while the Congress is the main opposition party in the coastal state. Due to the entry of Trinamool Congress and Shiv Sena, the 2022 Goa assembly election result is expected to be multipolar. While AAP and BJP are contesting the Goa elections together in 2022, the Congress has forged an alliance with Vijay Sardesai's Goa Forward Party.
While the BJP continues to have Pramod Sawant as its chief ministerial face during the 2022 Goa elections, the AAP has projected Amit Palekar as its CM candidate. Goa Exit Poll 2022 projected a fractured mandate in the state. The Goa Election Result 2022 will be announced by the end of the day and the counting of votes will begin at 8 am.
Check out the list of 70 constituencies of Goa. We will keep updating the winning candidates of Goa Assembly Election 2022 with their party.
| | | | |
| --- | --- | --- | --- |
| Serial number | Constituency | Prime candidate | Leading party |
| 1. | Mandrem | Jeet Vinayak Arolkar | Maharashtrian Gomantak |
| 2. | pernem | Praveen Prabhakar Arlekar | Bharatiya Janata Party |
| 3. | bicholim | Dr. Chandrakant Shetty (the winner) | Independent |
| 4. | tiwimo | Neelkanth Ramnath Halarankar | Bharatiya Janata Party |
| 5. | mapusa | Joshua Peter de Souza | Bharatiya Janata Party |
| 6. | siolim | Delia Michael Lobo | Indian National Congress |
| 7. | Saligao | Kedar Jayaprakash Nayaki | Indian National Congress |
| 8. | Calangute | Michael Vincent Lobo (the winner) | Indian National Congress |
| 9. | porvorim | Rohan Khunte (WINNER) | Bharatiya Janata Party |
| 10. | aldona | Glen John Vijay Ambrose E Souza Tiklo | Bharatiya Janata Party |
| 1 1 | Panaji | ATANASIO Monserrate (WINNER) | Bharatiya Janata Party |
| 12. | Taleigao | Jennifer Monserrate | Bharatiya Janata Party |
| 13. | St. Cruz | Rodolfo Louis Fernandes | Indian National Congress |
| 14. | St. Andre | Viresh Mukesh Borkar | Revolutionary Goa Party |
| 15. | kambarjua | Rajesh Faldesai | Indian National Congress |
| 16. | uncle | Premendra Vishnu Sete | Bharatiya Janata Party |
| 17. | Sanquelim | Dr. Pramod Sawanti | Bharatiya Janata Party |
| 18. | porime | Deviya Vishwajit Rane (WINNER) | Bharatiya Janata Party |
| 19. | Wallpay | Vishwajit Pratap Singh Rane (WINNER) | Bharatiya Janata Party |
| 20 | Priol | Pandurang aka Deepak Dhavalikar | Maharashtrian Gomantak |
| 21. | panda | Ketan Prabhu Bhatikar | Maharashtrian Gomantak |
| 22. | Siroda | Subhash Shirodkar | Bharatiya Janata Party |
| 23. | marquim | Ramakrishna alias Sudin Dhavalikar | Maharashtrian Gomantak |
| 24. | mormugao | Sankalp Amonkar (WINNER) | Indian National Congress |
| 25. | Vasco da Gama | Krishna V. Salkari | Bharatiya Janata Party |
| 26. | dabolim | Mauvin Heliodoro Godinho | Bharatiya Janata Party |
| 27. | cortalim | Antonio Vasu | Independent |
| 28. | Nuvem | alexo sequeira | Indian National Congress |
| 29. | curtorim | Alexo Reginaldo Lourenco | Independent |
| 30. | Fatorda | Vijay Sardesai | Goa Forward Party |
| 31. | Margo | Digambar Kamat (Winner) | Indian National Congress |
| 32. | benolim | wenzie vegas | Aam Aadmi Party |
| 33. | fledgling | Ulhas Tuenkari | Bharatiya Janata Party |
| 34. | concolim | Alemao Yurik | Indian National Congress |
| 35. | velimo | cruz silva | Aam Aadmi Party |
| 36. | quepem | Alton d'Costa | Indian National Congress |
| 37. | curchorem | Nilesh Cabral (WINNER) | Bharatiya Janata Party |
| 38. | sanvordem | Ganesh Gaonkari | Bharatiya Janata Party |
| 39. | Sanguem | Subhash Uttam Phal Desai | Bharatiya Janata Party |
| 40. | canacona | Ramesh Tawadkari | Bharatiya Janata Party |