Punjab Election Result 2022: AAP Sweeps Punjab, Check List of Winners and Party wise Seats Tally
ECI has started the declaration of Punjab Vidhan Sabha Election Result 2022. Check the list of winning candidates and statistics of Punjab political parties here.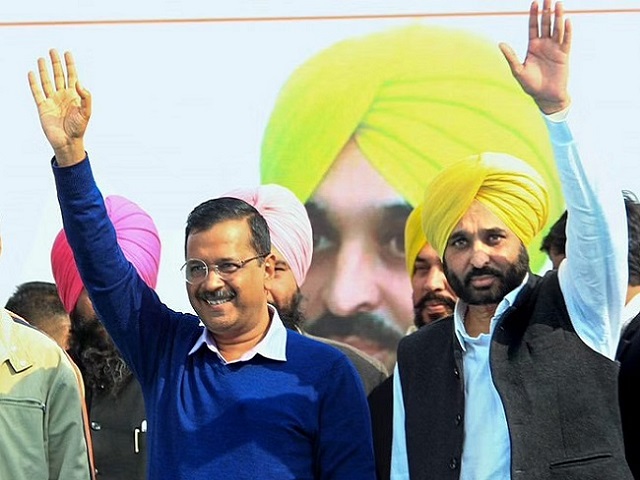 Punjab Election Result 2022: Check Winners List and Party Wise Seats
Punjab Assembly Election Result 2022: Aam Aadmi Party is going to create history by registering a thumping victory in the 2022 Punjab Assembly elections. AAP has so far crossed the majority mark in Punjab by leading in 89 seats, while Congress is leading in 15 seats.
Bharatiya Janata Party is leading on 3 seats, BSP on 2 seats, Shiromani Akali Dal is leading in 7 seats and an Independent in 1 seat.
AAP's wave is expected to hit Punjab and is leading by 26516 votes over its CM candidate Bhagwant Mann Dhuri. Other prominent candidates including Punjab Chief Minister Charanjit Singh Channi, Congress President Navjot Singh Sidhu, former Punjab CM Captain Amarinder Singh and SAD patron Parkash Singh Badal are currently trailing.
Punjab Election Result 2022: Check Winners List and Party Wise Result
S.No.
constituency
prime candidate
team
1
abohar
Sandeep Jakhari
Congress
2
Adampur
Jeet Lal Bhatti
AAP
3
Ajnala
Kuldeep Singh Dhaliwal
AAP
4
Amargarh
Prof. Jaswant Singh Gajan Majra
AAP
5
amaloh
Gurinder Singh Gary Birthing
AAP
6
Amritsar Central
Ajay Gupta
AAP
7
Amritsar East
Jeevan Jyot Kaur
AAP
8
Amritsar North
Kunwar Vijay Pratap Singh
AAP
9
Amritsar South
Inderbir Singh Nijjari
AAP
10
Amritsar West
Doctor. Jasbir Singh Sandhu
AAP
1 1
Anandpur Sahib
Harjot Singh Bains
AAP
12
self city
Kulwant Singh Sidhu
AAP
13
Attic
Jaswinder Singh
AAP
14
Baba Bakla
Dalbir Singh Tong
AAP
15
Balachaur
Santosh Kumari Kataria
AAP
16
sandy
Amandeep Singh Musafir
AAP
17
Banga
Sukhwinder Kumar Sukhi Dr.
sad
18
barnala
Gurmeet Singh met Hair
AAP
19
Bassi Pathan
Rupinder Singh
AAP
20
batala
Amansher Singh (Sherry Kalsi)
AAP
21
Bathinda Rural
Amit Ratan Kotfatta
AAP
22
Bathinda Urban
Jagroop Singh Gill
AAP
23
Bhadauri
Labh Singh Ugoke

CM Charanjit Singh Channi is trailing by 3461 votes

AAP
24
Bhaag Purana
Amritpal Singh Sukhanand
AAP
25
bhoa
Joginder Pal
Congress
26
innocent
Bibi Jagir Kaur
sad
27
Bhucho Mandi
Jagsir Singh
AAP
28
Budhlada
Buddha Ram
AAP
29
chabbewal
Doctor. Princess
Congress
30
Chamkaur Sahib
Charanjit Singh

CM Charanjit Singh Channi is trailing by 2160 votes

AAP
31
see
Manpreet Singh Ayali
sad
32
Dasuya
Karambir Singh
AAP
33
Dera Baba Nanaki
Sukhjinder Singh Randhawa
Congress
34
Dera Bassi
Kuljit Singh Randhawa
AAP
35
Dharamkot
Devendrajit Singh Laddi Dhose
AAP
36
spindle
Bhagwant Mannu
AAP
37
Dina Nagar
Shamsher Singh
AAP
38
dirba
Harpal Singh Cheema
AAP
39
farikoto
Gurdit Singh Sekhon
AAP
40
Fatehgarh Churian
Tript Rajinder Singh Bajwa
Congress
41
Fatehgarh Sahib
Lakhbir Singh Rai
AAP
42
fazilka
Narinder Pal Singh Sawan
AAP
43
Firozpur City
Ranbir Singh
AAP
44
Firozpur Rural
Rajnish Kumar Dahiya
AAP
45
Garhshankar
Amarpreet Singh Lalli
Congress
46
ghanauri
Gurlal Ghanauri
AAP
47
giddarbaha
Hardeep Singh Dimpy Dhillon
sad
48
sweet
Jeevan Singh Sangoval
AAP
49
Gurdaspur
Gurbachan Singh Babehali
sad
50
Guru Har Sahai
Fauja Singh
AAP
51
hoshiarpur
Bram Shankar (Zimpa)
AAP
52
Jagraon
Sarvjit Kaur Manuke
AAP
53
olive
Amolak Singh
AAP
54
Jalalabad
Jagdeep Kamboji
AAP
55
Jalandhar Cantt
Surinder Singh Sodhi
AAP
56
Jalandhar Central
Manoranjan Kalia
BJP
57
Jalandhar North
Avtar Singh Jr.
Congress
58
Jalandhar West
Mohinder Bhagat
BJP
59
Jandiala
Harbhajan Singh Ito
AAP
60
Kapurthala
Rana Gurjit Singh
Congress
61
Kartarpur
Balkar Singh
AAP
62
Khadoor Sahib
Manjinder Singh Lalpura
AAP
63
Food
Tarunpreet Singh Sond
AAP
64
Kharar
Anmol Gagan Mann
AAP
65
Khem Karan
Sarwan Singh Dhuni
AAP
66
Kotkapura
Kultar Singh Sandhwani
AAP
67
lambic
Gurmeet Singh Khudiyani

Parkash Singh Badal is trailing by 4385 votes

AAP
68
hoist
Barinder Kumar Goyal Advocate
AAP
69
Ludhiana Central
Gurdev Sharma Debik
BJP
70
Ludhiana East
Daljit Singh Grewal (Bhola)
AAP
71
Ludhiana North
Madan Lal Bagga
AAP
72
Ludhiana South
Rajinder Pal Kaur
AAP
73
Ludhiana West
Gurpreet Bassi Gogi
AAP
74
madder
Ganiway Kaur Majithia
sad
75
Malerkotla
Mohd Jameel ur Rehman

Razia Sultan is trailing by 8601 votes

AAP
76
Malout
Dr. Baljit Kauri
AAP
77
Mansa
Dr. Vijay Singla
AAP
78
maur
Sukhveer Singh Maserkhana
AAP
79
Mahal Kalani
Kulwant Singh Pandori
AAP
80
moga
Doctor. Amandeep Kaur Arora
AAP
81
Mukerian
Jangi Lal Mahajani
BJP
82
Muktsar
Jagdeep Singh 'Kaka Brar'
AAP
83
nabha
Gurdev Singh Dev Mann
AAP
84
nakodri
Gurpratap Singh Wadala
sad
85
new urban
Doctor. seventy nine shifts
BSP
86
Nihal Singhwala
Manjit Singh Bilaspur
AAP
87
Pathankot
Ashwini Kumar Sharma
BJP
88
Patiala
Ajit Pal Singh Kohli
AAP
89
Patiala Rural
Dr. Balbir Singh
AAP
90
Bandage
Laljit Singh Bhullari
AAP
91
Anklet
Manvinder Singh Giaspura
AAP
92
Phagwara
Jasveer Singh Garhi
BSP
93
Phillauri
Vikramjit Singh Chowdhary
Congress
94
Qadian
Gurikbal Singh Mahli
sad
95
Raikot
Hakam Singh Contractor
AAP
96
Raja Sansi
Sukhbinder Singh Sarkaria
Congress
97
Rajpura
Neena Mittal
AAP
98
Rampura Phuli
Balkar Singh Sidhu
AAP
99
Rupnagar
Dinesh Kumar Chadha
AAP
100
SAS Nagar
Kulwant Singh
AAP
101
Sahnewal
Hardeep Singh Mundiani
AAP
102
Encounter
Chetan Singh Jouramajra
AAP
103
samrala
Jagtar Singh Diyalpura
AAP
104
Sangrur
Narinder Kaur Bharji
AAP
105
Sanour
Harmeet Singh Pathanamjra
AAP
106
Sardulgarh
Gurpreet Singh Banawali
AAP
107
Shahkoti
Hardev Singh Laddi
Congress
108
Sham Chaurasi
ravjot singh
AAP
109
Shutrana:
Kulwant Singh Juggling
AAP
110
Sri Hargobindpur
Amarpal Singh
AAP
111
Sujanpur
Naresh Puri
Congress
112
Sultanpur Lodhi
Rana Inder Pratap Singh
Independent
113
tsunami
Aman Arora
AAP
114
Talwandi Sabo
Pro. Baljinder Kaur
AAP
115
Tarn Taran
Dr. Kashmir Singh Sohali
AAP
116
urmari
Jasveer Singh Raja Gill
AAP
117
cumin
Naresh Kataria
AAP