UP Election Result 2022: Check List of Winners and Party wise Seats Tally of Uttar Pradesh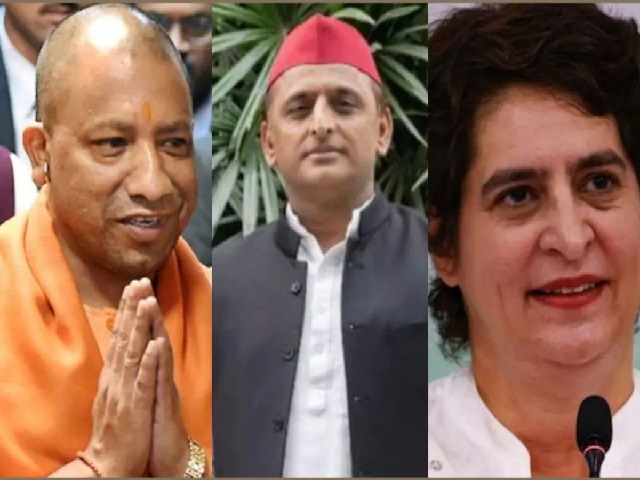 UP Elections Results 2022: Uttar Pradesh assembly election result 2022 is being announced on March 10, 2022, for a 403 member assembly. Major parties that will compete for the seats during UP Elections 2022 are the Bharatiya Janta Party, Congress, Samajwadi Party, Bahujan Samaj Party.
In 2017 Uttar Polls, BJP had won over 300 seats even though it had not announced a CM candidate. However, this time Adityanath has been the face of the BJP campaign of UP Elections 2022.
While Yogi Adityanath will fight from his stronghold Gorakhpur, Akhilesh Yada, his key challenger, will be contesting his first Assembly Election from the Samajwadi Party stronghold Mainpuri's Karhal.
Kairana, Noida, Bagpat, Muzaffarnagar, Mathura, and Ayodhya are some of the key constituencies that are expected to affect significantly UP Elections 2022 results.
UP Elections 2022 Results: Election phases, role of caste and communities
UP Assembly Elections 2022 were held in 7 stages starting from February 10 to March 7, 2022.
Phase 1- February 10, 2022

Phase 2- February 14, 2022

Phase 3- February 20, 2022

Phase 4- February 23, 2022

Phase 5– February 27, 2022

Phase 6- March 3, 2022

Phase 7– March 7, 2022
UP Elections 2022 are also expected to play a decisive role in the 2024 Lok Sabha Polls. The Uttar Pradesh voter list has over 15 crore people from different castes and communities which adds complexities to the poll battle.
As CM Yogi Adityanath led the BJP government already in power in the state, Bharatiya Janata Party is looking forward to a second term in Uttar Pradesh on the promises of women empowerment and mega-development projects.
UP Elections 2022 Result: List of Winning Candidates and Constituencies
Here, we will provide you the updated list of winning candidates of UP Elections 2022. You can also find the constituencies and the parties from where the candidate contested and won the election.
| | | | |
| --- | --- | --- | --- |
| S. No. | Constituency | Leading Candidate | Leading Party |
| 1 | Behat | | |
| 2 | Nakur | | |
| 3 | Saharanpur Nagar | | |
| 4 | Saharanpur | | |
| 5 | Deoband | | |
| 6 | Rampur Maniharan | | |
| 7 | Gangoh | | |
| 8 | Kairana | | |
| 9 | Thana Bhawan | | |
| 10 | Shamli | | |
| 11 | Budhana | | |
| 12 | Charthawal | | |
| 13 | Purqazi | | |
| 14 | Muzaffarnagar | | |
| 15 | Khatauli | | |
| 16 | Meerapur | | |
| 17 | Najibabad | | |
| 18 | Nagina | | |
| 19 | Barhapur | | |
| 20 | Dhampur | | |
| 21 | Nehtaur | | |
| 22 | Bijnor | | |
| 23 | Chandpur | | |
| 24 | Noorpur | | |
| 25 | Kanth | | |
| 26 | Thakurdwara | | |
| 27 | Moradabad Rural | | |
| 28 | Moradabad Nagar | | |
| 29 | Kundarki | | |
| 30 | Bilar | | |
| 31 | Chandausi | | |
| 32 | Asmoli | | |
| 33 | Sambhal | | |
| 34 | Suar | | |
| 35 | Chamraua | | |
| 36 | Bilaspur | | |
| 37 | Rampur | | |
| 38 | Milak | | |
| 39 | Dhanaura | | |
| 40 | Naugawan Sadat | | |
| 41 | Amroha | Mehboob Ali | Samajwadi Party |
| 42 | Hasanpur | | |
| 43 | Siwalkhas | | |
| 44 | Sardhana | | |
| 45 | Hastinapur | | |
| 46 | Kithore | | |
| 47 | Meerut Cantt. | | |
| 48 | Meerut | | |
| 49 | Meerut South | | |
| 50 | Chhaprauli | | |
| 51 | Baraut | | |
| 52 | Bagpat | | |
| 53 | Loni | | |
| 54 | Muradnagar | | |
| 55 | Sahibabad | | |
| 56 | Ghaziabad | | |
| 57 | Modinagar | | |
| 58 | Dhaulan | | |
| 59 | Hapur | | |
| 60 | Garhmukteshwar | | |
| 61 | Noida | | |
| 62 | Dadri | | |
| 63 | Jewar | | |
| 64 | Sikandrabad | | |
| 65 | Bulandshahr | | |
| 66 | Syana | | |
| 67 | Anupshahr | Sanjay Kumar Sharma | Bharatiya Janata Party |
| 68 | Debai | | |
| 69 | Shikarpur | | |
| 70 | Khurja | | |
| 71 | Khair | | |
| 72 | Barauli | | |
| 73 | Atrauli | | |
| 74 | Chharra | | |
| 75 | Koil | | |
| 76 | Aligarh | Mukta Raja | Bharatiya Janata Party |
| 77 | Iglas | | |
| 78 | Hathras | | |
| 79 | Sadabad | | |
| 80 | Sikandra Rao | | |
| 81 | Chhata | | |
| 82 | Mant | | |
| 83 | Goverdhan | | |
| 84 | Mathura | | |
| 85 | Baldev | | |
| 86 | Etmadpur | | |
| 87 | Agra Cantt. | Dr. G S Dharmesh | Bharatiya Janata Party |
| 88 | Agra South | Yogendra Upadhyaya | Bharatiya Janata Party |
| 89 | Agra North | | |
| 90 | Agra Rural | | |
| 91 | Fatehpur Sikri | | |
| 92 | Kheragarh | | |
| 93 | Fatehabad | | |
| 94 | Bah | | |
| 95 | Tundla | | |
| 96 | Jasrana | | |
| 97 | Firozabad | | |
| 98 | Shikohabad | | |
| 99 | Sirsaganj | | |
| 100 | Kasganj | | |
| 101 | Amanpur | | |
| 102 | Patiyali | | |
| 103 | Aliganj | Rameshwar Singh Yadav | Samajwadi Party |
| 104 | Etah | | |
| 105 | Marhara | | |
| 106 | Jalesar | | |
| 107 | Mainpuri | | |
| 108 | Bhongaon | | |
| 109 | Kishni | | |
| 110 | Karhal | | |
| 111 | Gunnaur | | |
| 112 | Bisauli | | |
| 113 | Sahaswan | | |
| 114 | Bilsi | | |
| 115 | Badaun | | |
| 116 | Shekhupur | | |
| 117 | Dataganj | | |
| 118 | Baheri | | |
| 119 | Meerganj | | |
| 120 | Bhojipura | | |
| 121 | Nawabganj | | |
| 122 | Faridpur | | |
| 123 | Bithari Chainpur | | |
| 124 | Bareilly | | |
| 125 | Bareilly Cantt. | | |
| 126 | Aonla | Pt. Radha Krishan Sharma | Samajwadi Party |
| 127 | Pilibhit | | |
| 128 | Barkhera | | |
| 129 | Puranpur | | |
| 130 | Bisalpur | | |
| 131 | Katra | | |
| 132 | Jalalabad | | |
| 133 | Tilhar | | |
| 134 | Powayan | | |
| 135 | Shahjahanpur | | |
| 136 | Dadraul | | |
| 137 | Palia | | |
| 138 | Nighasan | | |
| 139 | Gola Gokrannath | | |
| 140 | Sri Nagar | | |
| 141 | Dhaurahra | | |
| 142 | Lakhimpur | | |
| 143 | Kasta | | |
| 144 | Mohammdi | | |
| 145 | Maholi | | |
| 146 | Sitapur | | |
| 147 | Hargaon | | |
| 148 | Laharpur | | |
| 149 | Biswan | | |
| 150 | Sevata | | |
| 151 | Mahmoodabad | | |
| 152 | Sidhauli | | |
| 153 | Misrikh | | |
| 154 | Sawayazpur | | |
| 155 | Shahabad | | |
| 156 | Hardoi | | |
| 157 | Gopamau | | |
| 158 | Sandi | | |
| 159 | Bilgram-Mallanwan | | |
| 160 | Balamau | | |
| 161 | Sandila | | |
| 162 | Bangarmau | | |
| 163 | Safipur | | |
| 164 | Mohan | | |
| 165 | Unnao | | |
| 166 | Bhagwantnagar | | |
| 167 | Purwa | | |
| 168 | Malihabad | | |
| 169 | Bakshi Kaa Talab | | |
| 170 | Sarojini Nagar | | |
| 171 | Lucknow West | | |
| 172 | Lucknow North | | |
| 173 | Lucknow East | | |
| 174 | Lucknow Central | | |
| 175 | Lucknow Cantonment | | |
| 176 | Mohanlalganj | | |
| 177 | Bachhrawan | | |
| 178 | Tiloi | | |
| 179 | Harchandpur | | |
| 180 | Rae Bareli | | |
| 181 | Salon | | |
| 182 | Sareni | | |
| 183 | Unchahar | | |
| 184 | Jagdishpur | | |
| 185 | Gauriganj | | |
| 186 | Amethi | Maharaji Prajapati | Samajwadi Party |
| 187 | Isauli | | |
| 188 | Sultanpur | | |
| 189 | Sultanpur Sadar | | |
| 190 | Lambhua | | |
| 191 | Kadipur | | |
| 192 | Kaimganj | | |
| 193 | Amritpur | | |
| 194 | Farrukhabad | | |
| 195 | Bhojpur | | |
| 196 | Chhibramau | | |
| 197 | Tirwa | | |
| 198 | Kannauj | | |
| 199 | Jaswantnagar | | |
| 200 | Etawah | | |
| 201 | Bharthana | | |
| 202 | Bidhuna | | |
| 203 | Dibiyapur | | |
| 204 | Auraiya | | |
| 205 | Rasulabad | | |
| 206 | Akbarpur-Raniya | | |
| 207 | Sikandra | | |
| 208 | Bhognipur | | |
| 209 | Bilhaur | | |
| 210 | Bithoor | | |
| 211 | Kalyanpur | | |
| 212 | Govind Nagar | | |
| 213 | Sishamau | | |
| 214 | Arya Nagar | | |
| 215 | Kidwai Nagar | | |
| 216 | Kanpur Cantonment | | |
| 217 | Maharajpur | | |
| 218 | Ghatampur | | |
| 219 | Madhogarh | | |
| 220 | Kalpi | | |
| 221 | Orai | | |
| 222 | Babina | | |
| 223 | Jhansi Nagar | | |
| 224 | Mauranipur | | |
| 225 | Garautha | | |
| 226 | Lalitpur | | |
| 227 | Mehroni | | |
| 228 | Hamirpur | | |
| 229 | Rath | | |
| 230 | Mahoba | | |
| 231 | Charkhari | | |
| 232 | Tindwari | | |
| 233 | Baberu | Ajay Kumar | Bharatiya Janata Party |
| 234 | Naraini | | |
| 235 | Banda | | |
| 236 | Chitrakoot | | |
| 237 | Manikpur | | |
| 238 | Jahanabad | | |
| 239 | Bindki | | |
| 240 | Fatehpur | | |
| 241 | Ayah Shah | Vikas Gupta | Bharatiya Janata Party |
| 242 | Husainganj | | |
| 243 | Khaga | | |
| 244 | Rampur Khas | | |
| 245 | Babaganj | Vinod Kumar | Jansatta Dal Loktantrik |
| 246 | Kunda | | |
| 247 | Vishwanathganj | | |
| 248 | Pratapgarh | | |
| 249 | Patti | | |
| 250 | Raniganj | | |
| 251 | Sirathu | | |
| 252 | Manjhanpur | | |
| 253 | Chail | | |
| 254 | Phaphamau | | |
| 255 | Soraon | | |
| 256 | Phulpur | | |
| 257 | Pratappur | | |
| 258 | Handia | | |
| 259 | Meja | | |
| 260 | Karachhana | | |
| 261 | Allahabad West | | |
| 262 | Allahabad North | | |
| 263 | Allahabad South | | |
| 264 | Bara | | |
| 265 | Koraon | | |
| 266 | Kursi | | |
| 267 | Ram Nagar | | |
| 268 | Barabanki | | |
| 269 | Zaidpur | | |
| 270 | Dariyabad | | |
| 271 | Rudauli | | |
| 272 | Haidergarh | | |
| 273 | Milkipur | | |
| 274 | Bikapur | | |
| 275 | Ayodhya | Ved Prakash | Bharatiya Janata Party |
| 276 | Goshainganj | | |
| 277 | Katehari | | |
| 278 | Tanda | | |
| 279 | Alapur | Tribhuwan Dutt | Samajwadi Party |
| 280 | Jalalpur | | |
| 281 | Akbarpur | Ram Achal Rajbhar | Samajwadi Party |
| 282 | Balha | | |
| 283 | Nanpara | | |
| 284 | Matera | | |
| 285 | Mahasi | | |
| 286 | Bahraich | | |
| 287 | Payagpur | | |
| 288 | Kaiserganj | | |
| 289 | Bhinga | | |
| 290 | Shrawasti | | |
| 291 | Tulsipur | | |
| 292 | Gainsari | | |
| 293 | Utraula | | |
| 294 | Balrampur | | |
| 295 | Mehnaun | | |
| 296 | Gonda | | |
| 297 | Katra Bazar | | |
| 298 | Colonelganj | | |
| 299 | Tarabganj | | |
| 300 | Mankapur | | |
| 301 | Gaura | | |
| 302 | Shohratgarh | | |
| 303 | Kapilvastu | | |
| 304 | Bansi | | |
| 305 | Itwa | | |
| 306 | Domariyaganj | | |
| 307 | Harraiya | | |
| 308 | Kaptanganj | | |
| 309 | Rudhauli | | |
| 310 | Basti Sadar | | |
| 311 | Mahadewa | | |
| 312 | Menhdawal | | |
| 313 | Khalilabad | | |
| 314 | Dhanghata | | |
| 315 | Pharenda | | |
| 316 | Nautanwa | | |
| 317 | Siswa | | |
| 318 | Maharajganj | | |
| 319 | Paniyara | | |
| 320 | Caimpiyarganj | | |
| 321 | Pipraich | | |
| 322 | Gorakhpur Urban | | |
| 323 | Gorakhpur Rural | | |
| 324 | Sahajanwa | | |
| 325 | Khajani | | |
| 326 | Chauri-Chaura | | |
| 327 | Bansgaon | | |
| 328 | Chillupar | | |
| 329 | Khadda | | |
| 330 | Padrauna | | |
| 331 | Tamkuhi Raj | | |
| 332 | Fazilnagar | | |
| 333 | Kushinagar | | |
| 334 | Hata | | |
| 335 | Ramkola | | |
| 336 | Rudrapur | | |
| 337 | Deoria | | |
| 338 | Pathardeva | | |
| 339 | Rampur Karkhana | | |
| 340 | Bhatpar Rani | | |
| 341 | Salempur | | |
| 342 | Barhaj | | |
| 343 | Atrauliya | | |
| 344 | Gopalpur | | |
| 345 | Sagri | | |
| 346 | Mubarakpur | | |
| 347 | Azamgarh | | |
| 348 | Nizamabad | | |
| 349 | Phoolpur Pawai | | |
| 350 | Didarganj | | |
| 351 | Lalganj | | |
| 352 | Mehnagar | | |
| 353 | Madhuban | | |
| 354 | Ghosi | | |
| 355 | Muhammadabad-Gohna | | |
| 356 | Mau | | |
| 357 | Belthara Road | | |
| 358 | Rasara | | |
| 359 | Sikanderpur | | |
| 360 | Phephana | | |
| 361 | Ballia Nagar | | |
| 362 | Bansdih | | |
| 363 | Bairia | | |
| 364 | Badlapur | | |
| 365 | Shahganj | | |
| 366 | Jaunpur | | |
| 367 | Malhani | | |
| 368 | Mungra Badshahpur | | |
| 369 | Machhlishahr | | |
| 370 | Mariyahu | | |
| 371 | Zafrabad | | |
| 372 | Kerakat | | |
| 373 | Jakhanian | | |
| 374 | Saidpur | | |
| 375 | Ghazipur Sadar | | |
| 376 | Jangipur | | |
| 377 | Zahoorabad | | |
| 378 | Mohammadabad | | |
| 379 | Zamania | | |
| 380 | Mughalsarai | | |
| 381 | Sakaldiha | | |
| 382 | Saiyadraja | | |
| 383 | Chakia | | |
| 384 | Pindra | | |
| 385 | Ajagara | Tribhuwan Ram | Baharatiya Janata Party |
| 386 | Shivpur | | |
| 387 | Rohaniya | | |
| 388 | Varanasi North | | |
| 389 | Varanasi South | | |
| 390 | Varanasi Cantt. | | |
| 391 | Sevapuri | | |
| 392 | Bhadohi | | |
| 393 | Gyanpur | | |
| 394 | Aurai | | |
| 395 | Chhanbey | | |
| 396 | Mirzapur | | |
| 397 | Majhawan | | |
| 398 | Chunar | | |
| 399 | Marihan | | |
| 400 | Ghorawal | | |
| 401 | Robertsganj | | |
| 402 | Obra | | |
| 403 | Duddhi | | |